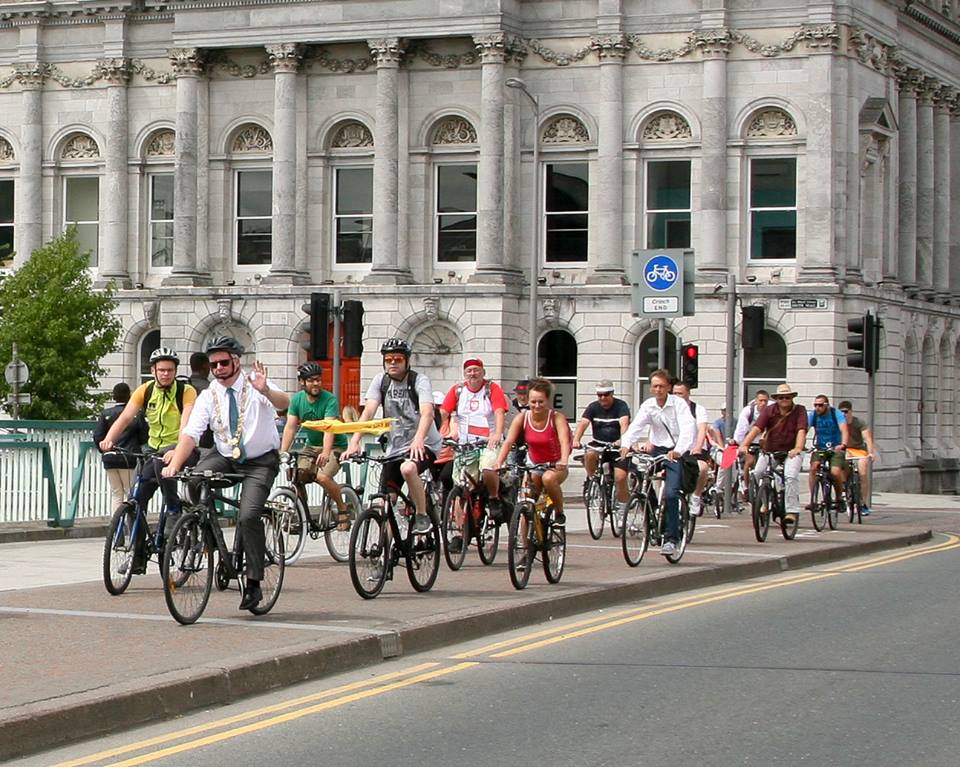 Cork Cycling Festival isn't your average festival. Embrace the fun that can be had in and around cork with others, on your bicycle, recumbent and unicycles.
There are cycles for Beginners, Families, the Curious and Adventourous.
Saturday 29th of Jun
|12:00pm| Festival Opening
@ The Fountain Grand Parade
Once again it is time to revive your high nellies out of the back shed and dust of your tweeds for this jolly good parade around the city. Relieve the golden age and chivalry of the beautiful machine. Join the craic of this rollicking ride before we head to our day cycle to Cobh. 
|19:00pm| Opening evening with music 
@An Balla Bar (Hanover street, Cork)
A get-together after the day cycle to relax, chat and have fun. 
Sunday 30th of Jun 
|11:00am| Mullighassig Waterfall Cycle 
@ The Fountain on Grand Parade
One of our more challenging festival cycles. We'll make our way on Lee road toward Dripsey and Mullighassig Woods and Waterfall for some picnic. We'll have two groups for the way back. The first group will leave earlier to catch the afternoon event in the Observatory, while the second group will take their time to cycle back and even stop at Drispey Garden Centre for a coffee/tea break or late lunch.
|17:00pm| Blackrock Castle Observatory 
@ The Fountain on Grand Parade
Cycle along the old railway line to Blackrock Castle where we'll have some interesting and inspiring cycle shorts. You can drop in and out between the films for refreshments in the courtyard. 
For closing the day, everyone is welcome to join us for music and a drink in Crawford & Co from about 7pm. 
Monday 1st of July 
10:00am| Ringaskiddy Cycle
@ The Fountain Grand Parade
National Maritime College of Ireland out the old railway line and around the harbour to the National Maritime College of Ireland and the Beaufort Building and get guided tours of the facilities. Up to 20 people so booking on our Facebook page or via email is highly recommended. 
Event Sponsored by NMCI
|7:00pm| Historical Cycle
@ The Fountain Grand Parade
Find out about the man who gave his name to an era and discover places associated with the period of history which helped shape modern Europe. We'll finish up at  Abbey Tavern Bar with the Half Moon Music Club. 
 
Tuesday,  2nd of July
|19:00pm| Vegan/vegetarian Food cycle 
@ The Fountain Grand Parade
Lovely cycle around town to discover this growing cuisine. We are stopping at 143 Cafe, Earth Cafe and heading out to the Atlantic Pond to visit My Goodness. 
Wednesday, 3rd of July
|18:00pm| Artist Cycle
@ The Fountain Grand Parade
Cork is a city of culture brimming with many talented artist's. Come with us on a tour of discovering their work . We'll finish at Gables bar with fingerfood by Luigi Malones..
Thursday, 4th of July
|6:45pm| An Oige Cycle
@ Cork Opera House, Emmet Place, Cork
Join An Óige for one of their weekly cycles! Chose from a longer or shorter cycle.
For the families with young children, we are having a fun cycle from Cork Distillery Car Park toward Fitzgerald Park and Skate park for playtime and picnic.
Friday,  5th of July
5:30pm| Swim & BBQ Cycle
@ The Fountain Grand Parade
Take a gentle incline all the way to Carrignavar to the local outdoor swimming pool. Bring your own swim suit/gear and then enjoy a complimentary BBQ.